Yoko Tsuno by Roger Leloup
I have a small collection of comics books (about 3 to 4 meters). Some of them contains driving scenes and racing with cars. The best one for Fiat Bertone X1/9 fans is probably this story by the belgian author Roger Leloup called "Message to Eternity" with the girl hero Yoko Tsuno. My copy is in Danish ("Budskap til evigheden"). This is a very nice portrait of the Fiat Bertone X1/9, both by the way the car looks and its road behavior. The red X1/9 is also used in the Yoko Tsuno story "The Vampire of Rothenburg".
---
Early in the story this car hunt is described: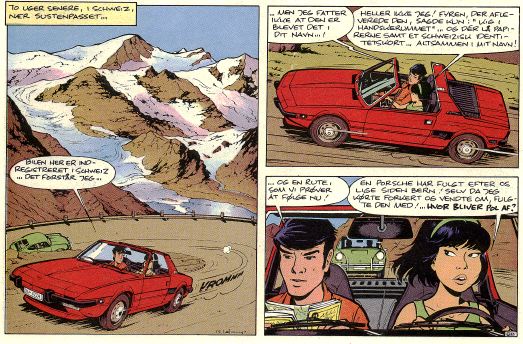 In Switserland near the Susten Pass. Yoko: "A Porsche has been following us since Bern."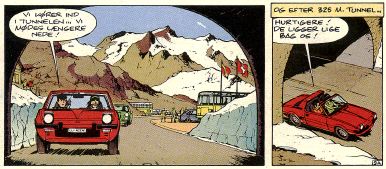 Victor: "Faster! They're just behind us!"
Yoko: "Ooops! It slips! I can't make it!"
Victor: "Do not brake! Give it more power and steer!"
This author must have driven the X1/9 (he did !)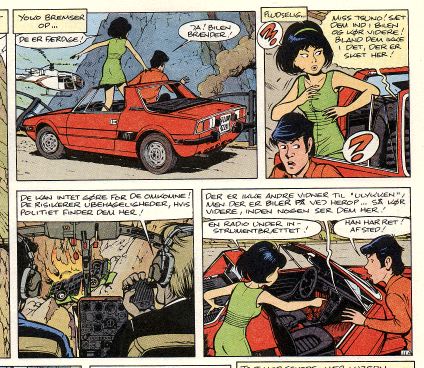 You can see that this 1300 is an early model (bottom of rear end). Black interior with red carpets. Nice!
Orginal title of this story:
Yoko Tsuno: Message pour l'eternite
Copyright © Leloup and S.E.P.P., 1975
---
Dear Svein Erling Lode,
Just another small thing to know: The author Roger Leloup of the Yoko Tsuno stories has driven the red X1/9 in real ! That is one of the reasons why he used the car in some of the albums. (I'm not sure if he still owns the car). So your conclusion "This author must have driven the X1/9..." is correct! I found out about this while "hunting" for a Dutch version of the album "Message to Eternity", which appears to be sold-out until now... So I may not be the only one looking for this album :-(
The name of the second album, "The Vampire of Rothenburg" is not in the list of albums of Yoko Tsuno in Dutch. It might be possible that it has a different title here. At least no title looked like the English one. Maybe you know the Danish title and/or the number of this story? Perhaps that can help me also...
Greetings again, Klaas Roos
Webmaster Fiat Bertone X1/9 Club Nederland E-mail: x19-club@flipsoft.com
Site: http://www.xs4all.nl/~flipsoft/bertone/
Orginal title of "Vampyren fra Rothenburg" (danish title):
Yoko Tsuno: La frontiére de la vie
Copyright © Leloup and S.E.P.P., 1977